First universe: art&me
Discover art&me, the very first app&me universe. art&me breaks the codes and introduces you in a simple and playful way to the world of art. A universe where you can discover new artists, their works, and support them in the struggles they represent.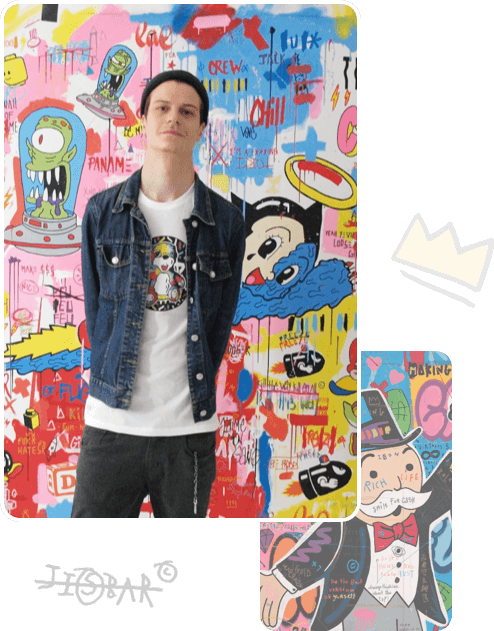 @Jisbar
Artist of the season
Jisbar is an artist from Paris who ironically interprets pop culture. His creative universe revives a society saturated by the media, reinterpreting contemporary references in his own way. Fashion, music, the freestyle spirit of the skateboarding world, but also street art or art history, Jisbar's sources of inspiration are unlimited, talk less of his distinctive style. His works are exhibited in galleries and museums all over the world.
Play Art, an outstanding work
Play Art, Play Art is a special world inspired by Pop Art, which art&me invites you to discover. An impressive and intriguing canvas at the frontiers of art and reality, to be interpreted and discovered on several levels: characters, details, messages hidden by the artist, etc.
Never before has Play Art been exhibited to the public. Why? Because its first exhibition will be a singular and extraordinary event, determined by the art&me community! Entrusted to a Swiss association, Play Art will never be sold. The painting will be donated to a museum or foundation, and will remain accessible to its community.
Play Art x MADE BLUE
By joining art&me, you support the first artist of the season: Jisbar and the « Play Art X Madeblue » project. Earn money with your friends and participate in the financing of an artistic and humanitarian project for access to clean water.
Clean and accessible drinking water is the basis of a healthy life. There are still many countries where people have to walk long distances to collect water everyday. Water which is often polluted too. These people cannot work or go to school and can never build a healthy life.
Coming Soon
app&me is constantly innovating, exploring and reinventing itself, to offer you renewed experiences: the creation of new universes is at the heart of the project, with imagination as the only limit.